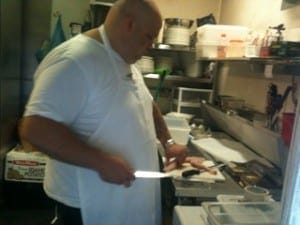 Food Network star and owner of trendy Cleveland eatery Fahrenheit—Chef Rocco Whalen—is more successful than ever and 130 pounds lighter!
Rocco's famous restaurant "Fahrenheit," was a run-away hit the moment it opened its Cleveland doors in 2002. But even its rising star chef Rocco Whalen could not anticipate the heat he would generate with this Tremont gem where patrons enjoy the contemporary American regional cuisine while sampling new innovative cuisine every six weeks. Before owning his restaurant, he worked in the kitchens of restaurants owned by Wolfgang Puck, often toiling side-by-side with Puck at Spago, Obachin, Granita and Chinois. Gourmet magazine listed Fahrenheit in its "Guide to America's Best Restaurants." Restaurant Hospitality named Rocco a "Rising Star." Rocco at his heaviest weighed over 390 pounds. After meeting celebrity trainer Brett Hoebel, his life changed. He went from 5000 calories plus a day to 1500-1800 a day! He recently lost over 130 pounds and still counting.  Meet Chef Rocco…
The opportunity to change my life occurred while filming Food Network's new series, "Fat Chef."  During this 4-month process of my weight loss journey, I learned about my emotional feelings, my body, what fuels my body, and how to deal with life being a chef and controlling my emotions.
In September 2011, I was assigned a life coach by the name of Brett Hoebel.  Brett's a former trainer on NBC's "the Biggest Loser," and creator of RevAbs, and resident butt-kicker.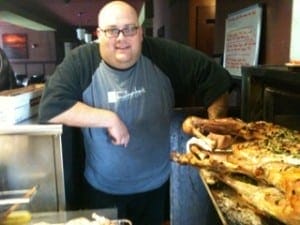 Brett dissected my diet; my bad habits, my schedule and we together formulated a plan to lose 85 pounds in 16 weeks.  The goal of 85 pounds was set, because it was 25% of my body weight at the time.  In September I weighed in at 343 pounds.  The goals we set were specific, precise, and aggressive.  Brett and I flushed out my bad food diet, and rebuilt it into a conscious approach of eating green leafy vegetables, with proteins to the tune of 1800 calories a day, toss in about 90 minutes of exercise, core, strength, cardio, plyo-metrics, TRX straps, and we were on our way.  I am often in the gym alone in the very early hours of the morning, and this is where I found my true identity.
Today, March 2012, I have acquired a new lease on life.   My acclaimed restaurant Fahrenheit in Cleveland is reaching its 10th Anniversary.  To celebrate I have launched a Fahren"lite" menu that has been calorically analyzed and deemed healthy and flavorful.  I have the opportunity to create, educate people through food on how to make better healthier eating choices.  Here are a few…
If it was not here 1000 years ago…lay off of it.  No Doritos, Oreos, Coca-Cola – they were not here…
Look to flavor your proteins and vegetables with citrus or spices that don't contain a lot of sodium, avoid over-salting.
Remember at the table if you make a withdrawal from your health account (your body) you need to be prepared to make a big deposit at the gym the next morning…
Here's a healthy recipe I wanted to share.  I loved sweets and this one is pretty healthy and will satisfy any sweet tooth!
Easy No-Bake Peanut Butter "Cookies"
1 cup dry milk
1 cup chocolate Shakeology
1 cup all natural peanut butter
Mix Dry milk and Peanut butter till evenly mixed and incorporated
Add Shakelogy (you made need a few drops of water to moisten mixture just a touch)
Shape into 1 " balls and freeze
Rocco's New Eating Regiment 
1500 to 1800 Calories per day
Breakfast:
6 egg whites with green veggies in early morning (pre-workout)
Or
Shakeology powder with almond milk, peanut butter powder, maca, acai, gogi, and pomegranate powder
Or
Pure Protein Bar
Lunch:
5 oz grilled Chicken
2 cups mesclin greens
1/2 cucumber
3 olives
1 tomato diced
Tahini-yogurt dressing
Hot sauce
400-500 calorie lunch
Snack:
Green Apple or Celery Sticks with 1 tablespoon all natural peanut butter
Dinner:
5-7 oz Pork Chop or Salmon
2 cups Steamed Veggies (Broccoli and Cauliflower) or spinach and Kale
Late Night:
1 oz Gogi Berries