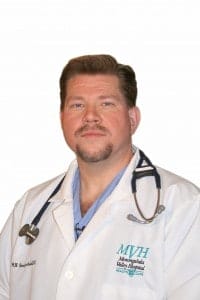 Monongahela Valley Hospital's free community Innovations lecture series featuring its physicians presenting educational health care talks continues with M. Nicholas Senchyshak, D.O., a board certified anesthesiologist.
Dr. Senchyshak will discuss innovations in the diagnosis and treatment of chronic low back pain Monday, April 9, at 6 p.m. at the Mon-Vale HealthPLEX at WillowPointe Plaza on Route 51 in Rostraver.
According to the National Institutes of Health, 60 to 90 percent of American adults experience low back pain at some point in their lifetimes, for which treatment costs an estimated $50 billion annually. Low back pain is the most common cause for job-related disability claims and the most common cause for early Society Security disability in the United States for those under age 45.
The Innovations program and parking are free; light refreshments will be served. Seating is limited and reservations are required by calling 724-258-1333.
Dr. Senchyshak, who is part of the Department of Anesthesiology and Pain Management at MVH, sees patients who have a prescription for treatment from their doctors. Call 724-258-1062 to make an appointment.
MVH has presented Innovations lectures each month to area residents since January of 2008. Attendees regularly submit ideas for future program topics.