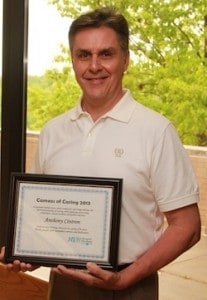 When you ask someone who has received medical care at Monongahela Valley Hospital about the quality of their care, one of the first comments you will hear is "the nurses are so compassionate." It takes a special type of person to be a nurse and MVH hires men and women who are among the best in their profession.
In celebration of National Nurses Week, May 6-12, MVH hosted a breakfast to honor its nurses. During the event, Mary Lou Murt, senior vice president of Nursing, presented the 2013 Cameos of Caring® Award to Tony Cintron, RN, progressive care unit. This prestigious award is presented annually by the University of Pittsburgh's School of Nursing to honor exceptional bedside nurses who work in acute care hospitals. Nurses throughout Western Pennsylvania nominate their co-workers who demonstrate excellence in nursing care, serve as advocates for patients and families and embody the essence of the nursing procession.
"Tony was nominated by his fellow nurses because he brings cheer and hope to his patients," said Mrs. Murt. "He shows excellent leadership skills with patients, families and staff members, and acts as a mentor for students and new nurses. Tony is always willing to help others and he is respected by his colleagues."
Nine MVH nurses were nominated for the Cameos of Caring Award.
"I wish that they all could receive the top honor because each one of these nurses is truly deserving of the award," said Mrs. Murt.
The 2013 nominees include:
Shannon Hawthorne, RN, 6-East. Ms. Hawthorne is a team player who is known for being sweet and compassionate and always willing to go above and beyond to provide great care.
Linda Koceski, RN, 6-West. Ms. Koceski remains eager to learn as well as teach. She volunteers for continuing education opportunities and provides guidance to new nurses.
Kevin Newman, RN, 7-West. Mr. Newman is a committed nurse who tries to help others regardless of what it takes to make it happen. He serves as a resource to all new nurses.
Winona Redd, RN, Intensive Care Unit. Ms. Redd is known among patients for having a "soft touch" but among her peers she is known for having an inner strength that fuels her devotion to nursing.
John Spencer, RN, Coronary Care Unit. Mr. Spencer's communication skills enable him to effectively interact with patients, families and co-workers; and his kindness is a source of emotional support.
Nancy Williamson, RN, SameDay Surgery. Ms. Williamson is described by her co-workers as a nurse who is committed to excellence and provides leadership and has a great impact on patients and families.
Michelle Zeni, RN, Emergency Department. Ms. Zeni can adapt very quickly to the ever-changing, fast-paced atmosphere of emergency medicine.
Cheryl Zippay, RN, Behavioral Health Unit. Ms. Zippay always puts the patients' needs first and is not afraid to be an advocate on their behalf. Her colleagues describe her as having a remarkable attitude and uplifting spirit.