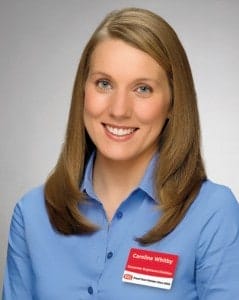 Giant Eagle is committed to helping customers and their families improve or maintain healthy lifestyles by recognizing that making changes in health habits can be made easier with programs that are convenient and effective. The new HBW program led by resident in-store nutritionists and registered dietitians offers nutritional programs and classes like:
Drop 10 in 10 (Part of the Highmark program)
Eat Well For Life (Part of the Highmark program)
Wellness Workshops
Store Tour for customers:  shopping w/resolutions in mind
Personal nutrition coaching
The overall mission of the nutritionist/dietitian is to inspire customers to make better choices in their eating and health accomplished with small goals.
In many cases, working with a customer begins with the use of the new USDA guideline ChooseMyPlate.com to determine eating habits and current health conditions.  The nutritionist/dietitian literally walks through the store to demonstrate and determine weekly menus and to eventually create a food log that can be monitored on a regular basis.  This is not a list of what not to eat but rather from the viewpoint that there is an entire store of what to eat.  Data is collected and regular meetings are arranged to monitor results and make adjustments.
In addition to weight loss, the dietitians are working with someone who has medical conditions such as diabetes, heart, celiac, and even kids nutrition programs and prevention.  They help to prioritize food choices for nutrition value, evaluate portion sizes and limit consumption or balance less nutritious items, read nutrition labels, and plan ahead. Customers have seen great progress and are available to discuss their experience. The sessions are not free but many are low cost.
We recently conducted an email interview with Caroline Whitby, Corporate Dietitian and Manager of Dietitian Initiatives, from Giant Eagle to learn more about the program as well as her role as a dietician with Giant Eagle.
PHR: Tell us where your interest in the field began and how your career in nutrition unfolded.
Caroline: While I was pursuing my B.S. in psychology I realized the relationship that exists among the role of an individual's mental functions and their behaviors, specifically related to physical lifestyle choices of nutrition and exercise.
I double-majored in psychology and clinical dietetics and pursued a job with a healthcare system that had my time split between an acute care and a long term care facility.  Not long into that role, I realized I wanted to be a part of disease prevention rather than tertiary care.  I completed a year in that setting and returned to school for a Masters in Wellness and Human Performance with a concentration in Exercise Physiology.  During my graduate work I began a private practice that existed for ~2 years. I terminated the practice to take a role with Giant Eagle as their first retail dietitian and wellness coach (Dec 2008).  In January 2011 I was promoted to Manager of Dietitian Initiatives and today oversee the retail dietitian team of 21, and growing, retail dietitians and am involved in the Health & Wellness Strategy for our Company.
PHR: What is the role of Giant Eagle Registered Dietitian Services? Why was it started? 
Caroline: The Retail Dietitian and wellness coach is positioned in the store to be an accessible and valuable resource, offering in-aisle inspiration at no charge through store tours and aisle talks and in-store inspiration for a nominal fee through the group classes and individual counseling.  Retail dietitians were added to Giant Eagle to position us as a destination for health and wellness information.  We have had the pharmacy positioned as a resource for reactive health needs.  Adding registered dietitians allows our customers to visit Giant Eagle (in-store and online) for proactive wellness concerns.
PHR: How can today's consumers make better choices in their eating habits? 
Caroline: Establish realistic goals and partner with a trusted advisor for information and inspiration.
PHR: What are some common misconceptions about healthy eating?
Caroline: That healthy eating is time consuming to do and will not taste good.  There is a time investment required up front to learn how to incorporate a healthier way of eating into your lifestyle, but the registered dietitians at Giant Eagle can help increase the return on that time investment by personalizing the Dietary Guidelines to a client's individual needs.  Simply removing fat, salt and sugar from foods is not the answer – learning replacements for these ingredients will ensure your food remains just as – or more – delicious while being better for you.
PHR: What small change can people make today that will have a large impact on their health?
Caroline: Eat meals that are consistent with the MyPlate guidelines; fill half the plate with fruits and veggies; include protein and carbohydrates, but treat them as sides not main dishes.  Also, enlist the help of a friend to increase accountability with their new habits. If safe to do so, start walking.
PHR: How do you get people to change their eating habits?
Caroline: Consumers, for the most part, know what they need to do to improve their eating habits, they need help in making the better choice the easier choice.  Giant Eagle is working to break down barriers to better eating so the better choice is the easy choice.  The registered dietitians work with their clients on an individual basis to identify their personal barriers and ways to overcome them.
PHR: Do you have a strategy that can help families that can't afford to shop for organic foods?
Caroline: Selecting organic foods is a lifestyle choice rather than for a nutritional  choice.  Giant Eagle sells a wide variety of organic and conventional foods to meet the needs of all of our customers.
PHR: Low carb vs. low calorie—do you feel that one is better than the other?
Caroline: The answer depends on the client.  In general, consumers need to understand the importance and sources of carbohydrates as well as their individual daily calorie needs for their weight goals.
PHR: Can you tell our readers about some of the nutritional initiatives that Giant Eagle is launching?
Caroline: We're continually bringing customers new and valuable information. Continue to look for actionable health and wellness messages tips throughout the store and on the website.  For instance, we are providing tips and recipes to involve your kid's in the kitchen which will improve their nutrition -and incorporating the items that are on sale in the stores.   For more information go to http://www.gianteagle.com/better-for-you.
PHR: Giant Eagle has several nutritional programs to assist customers. Which one would you recommend our readers start with and why?
Caroline: A reader that is 'social' should grab a few friends and attend a store tour.  A reader that is more private would benefit from starting in a personal counseling session.  We also have group classes for weight management, diabetes and general eating should a customer have a specific health goal in mind and be interested in a series class program.
More information is available by contacting the Giant Eagle Nutrition Team at 1-877-289-2588 or the dietitian at a local store, via email at nutrition@gianteagle.com or online at GiantEagle.com/Nutrition.  The classes and consultations earn fuelperks!  In many cases, insurance will cover a portion or all of the expense.