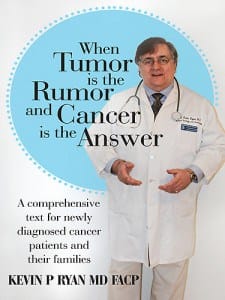 Information is the best weapon in the fight for your life. Kevin Ryan, MD, FACP, empowers patients with knowledge in his book, When Tumor is the Rumor and Cancer is the Answer.
In the book, Ryan uses authoritative and informative language to guide patients from diagnosis through treatment and even death. The goal, he says, is to make patients active participants in their treatment, at home and in the examination room.
"Cancer patients and their families can lower anxiety by being informed and comfortable voicing concerns," Ryan says. "Autonomy in the examination room leads to better collaboration with the entire team of cancer practitioners, and ultimately better treatment."

The book analyzes a wide scope of topics, from sexual health to spiritual support, making it a truly comprehensive guide for patients, families and physicians. Ryan also tells the stories of 10 former patients, whose heroic tales will inspire and motivate patients currently fighting cancer.
"The knowledge gap between oncologists and patients causes undue anxiety," Ryan says. "The entire experience can be better for patients and their families when they remain active, motivated participants in treatment."
For more information, visit AuthorHouse, Amazon, or Barnes & Noble.
About the author
Dr. Kevin Ryan graduated magna cum laude from Georgetown University, after which he authored numerous research and clinical papers, book chapters and abstracts in hematology/oncology, and presented research at the regional and national level while working as a professor of clinical medicine. He is a retired colonel in the US Air Force, fellow of the American College of Physicians and a member of Phi Beta Kappa, AOA, American Society of Clinical Oncology, American Society of Hematology, Mensa, Intertel and the American College of Physician Executives. Now retired, he focuses on teaching and writing. He lives in Fairfield, Calif., with his family.