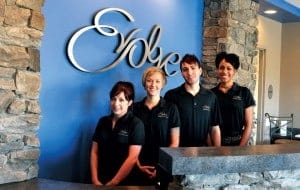 The Saturday Massage Clinic at Pittsburgh Technical College quite literally defines the concept of hands-on learning for students enrolled in the Therapeutic Massage Practitioner program in PTC's School of Healthcare.
With faculty supervision, students welcome the public to perform traditional and innovative techniques such as Swedish (relaxation), deep tissue, reflexology, hot stone, pregnancy and geriatric massage. Through practice, students gain the skills needed to provide clients with relaxation and relief from pain associated with tension, injury and health problems.
Members of the communities surrounding PTC's North Fayette campus have been taking advantage of the massage learning lab for years. "Most of our clients are people who live nearby and heard about what we offer," said Jennifer Boal, a therapeutic massage instructor at PTC. Boal added that repeat appointments are in such high demand that they've had to set aside openings each week for new customers.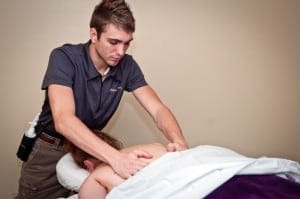 "The clinic is designed to emulate a professional setting in every possible way," said graduate Jessa Steinhoff. "PTC provides a transition from classroom to career that gave us experience we could only gain by working with real customers. Even more important, we gained the confidence and communications skills we needed to become successful therapists."
Students are required to work in the Clinic for four out of five quarters required for the certificate program. First quarter students are introduced to the business elements of the operation including scheduling, cash register, sanitation, and completing a client health history evaluation. Coursework throughout the entire program includes intensive study in technique, anatomy, physiology, and pathology.
In the program's final quarter, students are required to perform an internship. Graduates can take the national certification exam or the massage and bodywork-licensing exam before pursuing careers in therapeutic massage at spas, salons, chiropractic clinics, physical therapy centers, hotels or resorts.
In October 2011, Jennifer Boal expanded from instructor to employer when she opened Evolve Massage & Wellness Center in Scott Towne Center with Dr. Bryan Mock, a fellow faculty member in PTC's School of Nursing.  The Center hired 21 PTC graduates from the Therapeutic Massage Practitioner program, including Jessa Steinhoff.  Since opening, the Evolve has averaged 200 appointments per week and continues to grow.  "I never anticipated the volume we are achieving, but I attribute our success to the quality of our graduates," said Boal.
"What's beneficial about working among so many PTC graduates is that our instructors encouraged each of us to be the best therapists we could be and we share the same philosophies and standards for our work," said Steinhoff.  "We've been trained to do similar techniques, but the faculty took the time to push each of us to become specialized in our individual abilities."
PTC's Massage Clinic is located on campus at 1111 McKee Road, Oakdale, PA 15071.  For dates and appointment information for PTC's ongoing massage clinic, visit https://www.ptcollege.edu.
ABOUT PITTSBURGH TECHNICAL COLLEGE
Offering career-focused education since 1946, Pittsburgh Technical College is a two-year college with two locations in Western Pennsylvania: a 180-acre campus in North Fayette, west of Pittsburgh, and a center at the Regional Learning Alliance, north of the City in Cranberry. PTC offers degree and certificate programs in areas such as Building Technology, Business, Criminal Justice, Design, Healthcare, Nursing, and Information Technology.
PTC students can take advantage of online course offerings, on-campus residence halls, student activities, intramural programs and community service programs. PTC is accredited by the Middle States Commission on Higher Education.
PTC was recognized by its employees as one of the region's Top Places to Work in a 2011 study commissioned by The Pittsburgh Post-Gazette.
For more information, call 1-800-784-9675, or visit https://www.ptcollege.edu/.