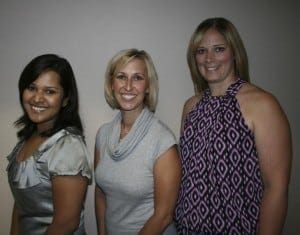 Southwest Regional Medical Center recently welcomed Arpita Basu, MD, MPH as a full time Hospitalist.  Dr. Basu joins Jami Diamond Boris, MD and Amber Grim, Certified Registered Nurse Practitioner (CRNP) as the newest member of the Hospitalist treatment team.
A Hospitalist is a physician who specializes in caring for patients in the hospital.  Hospitalists have emerged as the leading level of care for patients admitted to hospitals across the country.  Hospitalists are in the hospital all day and can be available to plan testing and answer questions in a timelier manner.
"We are happy to welcome Dr. Basu to the Hospitalist family as we have seen a large growth in the program," expressed Dr. Boris, Coordinator of Hospitalist Services. "Dr. Basu is highly trained and brings a sincere warmth and dedication to the Hospitalist program.  I know our patients will relate very easily to her."
Dr. Basu completed medical school in India followed by residency at Tufts University.  She received her Masters in Public Health (MPH) at the University of Pennsylvania.
"I chose Southwest Regional Medical Center because I enjoy practicing acute medicine," shared Dr. Basu.  "I like the exposure to many different aspects of medicine and knowing that each day is a new adventure.  I look forward to working with Dr. Boris, Amber and the entire Southwest Regional team."
Amber Grim, CRNP is also an integral part of the Hospitalist program.  She helps to coordinate testing and provides another level of accessibility for patients.  Amber was born and raised in Greene County.
"It is great to help serve patients at my hometown hospital," said Amber.  "It is the goal of the Hospitalist team to provide reassurance and comfort to everyone we see."
The philosophy of using a Hospitalist originated in response to the shortage of primary care physicians across the state and the nation.  Hospitalists allow primary care physicians to spend more time in the office setting with fewer delays and interruptions.  In turn, a full time Hospitalist is able to coordinate patient care, answer questions and facilitate recovery and discharge.  The Hospitalist communicates regularly with a patient's family physician to understand past medical history.    Many hospitals are now using Hospitalists to better coordinate care and enhance communication with patients, primary care physicians, specialists and family members
"We consider our role as an extension of the primary care physician until such time as a patient can return to the office setting to manage their care," continued Dr. Boris.
The Hospitalist program recently implemented Computerized Physician Order Entry (CPOE).  This is a step towards becoming an electronic medical record, which will ultimately lead to a completely paperless chart.  Electronic medical records also help to reduce errors and streamline patient care.
Southwest Regional Medical Center is a community centered 77-bed hospital offering 24-hour emergency services, a full range of diagnostic imaging specialties, a fully accredited laboratory, a Cardiac Care Center, cancer care, hyperbaric wound care and home health services.  Southwest Regional is proud to carry The Joint Commission Gold Seal of Approval.