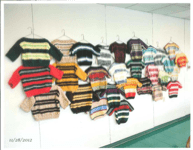 Senior living community make sweaters for children all over the world
According to UNICEF's 2012 Committing to Child Survival report, in poverty stricken areas approximately 19,000 children under five years old die daily due to unmet needs. Residents at Longwood at Oakmont, a Presbyterian SeniorCare Continuing Care Retirement Community in Plum, have joined thousands of knitters worldwide to fight poverty and provide sweaters to children nationally and internationally by participating in World Vision's "Knit for Kids" program.
For 2012, Longwood at Oakmont's resident knitters will donate approximately 100 sweaters. With this donation, the group has donated a total of over 500 sweaters for the past five years.
Photo: Longwood at Oakmont resident knitters donated approximately 100 sweaters this year to the WorldVision's "Knit for Kids" program, which distributes sweaters to children in the United States and internationally.
"Upon reading about the program in Creative Knitting magazine, my fellow residents and I felt it was important that all children have the opportunity to receive something new at least once in their life," states Carol Swift, a resident at Longwood at Oakmont.
The group of approximately 15 women meet every Wednesday morning to knit the children's sweaters and enjoy one another's company. Since future care and cleanliness are questionable, the ladies use synthetic yarn, which for the most part has been donated. All of the ladies also follow the same sweater pattern to ensure each child receives the same kind of sweater. However, each sweater varies in color as it is up to the knitter's discretion.
"By participating in the Knit for Kids program, our residents have found it rewarding in various aspects; one, helping others in need, and two, helping them connect with other residents who share a love of knitting," states Michael Haye, Executive Director of Longwood at Oakmont. "As a senior living community whose activities are directed by a resident committee, we encourage our residents to pursue activities that they are interested in doing."
Founded in 1996 by Guidepost Magazine, Knit for Kids is a World Vision program that unites volunteer knitters, and distributes sweaters to children as far away as Armenia, Nicaragua, Swaziland and Tanzania. Approximately 40 percent of the sweaters made go to children in the United States including those who have been the victims of natural disasters like Hurricane Sandy.
About Longwood at Oakmont
Longwood at Oakmont, a Presbyterian SeniorCare affiliate, is a continuing care retirement community (CCRC) dedicated to enriching the lives of its residents by providing a full range of quality services and health care which promote individual dignity, security, wellness and independence. A LifeCare community, Longwood at Oakmont is accredited by CARF-CCAC and is designed to address the physical, spiritual, and emotional well being of older adults. For more information, please visit www.longwoodatoakmont.com.