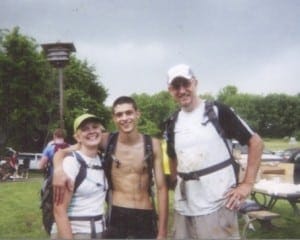 By Kathleen Ganster
Who shall I carry for you?
Cancer.
It may be your mother.
It may be your uncle.
It may be you.
At some point, Cancer touches everyone's life.
In 2004, my brother, Jack, was diagnosed with a brain tumor. Eight years later, he is healthy.
Because of his fight with cancer, Jack founded the non-profit organization, Survivor's Outdoor Experience (SOE) to assist other survivors. SOE provides cancer survivors with informational and recreational programming to enhance their lives.
With that thought in mind, Paul and I will be once again be taking on the 34- mile one-day Rachel Carson Trails Challenge on June 23rd. There are so many fund raisers these days, but yet I wanted to honor my brother and others who have faced a battle with cancer (or any life-threatening illness or battle) while raising funds for SOE.
This year, Paul and I will dedicate one mile of the Challenge for your loved one – it can be someone you lost to cancer, someone fighting cancer, someone you wish to honor for any battle. For that mile, we will "carry" them with us, pray for them, think of them and use their strength as inspiration for our challenge that day.
If you wish for us to "carry" your loved one, it would be our honor. Please let me know the name of the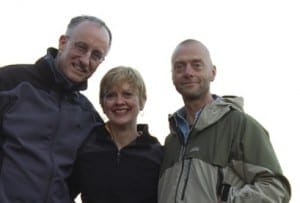 person you wish for us to carry. If you wish to make a donation to SOE, that would
be great, but I am only hoping to honor all survivors, whether or not they are still with us. (Jack's belief is that a person becomes a survivor the moment they are diagnosed).
Please let me know if you wish for us to carry your loved one. If you wish to make a donation to SOE or for more information, visit http://www.survivorsoutdoorexperience.org/hiking-for-a-reason.
Thank you so much!
With love,
Kathleen
(Who couldn't do this without the support and love of my husband and hiking partner, Paul.)