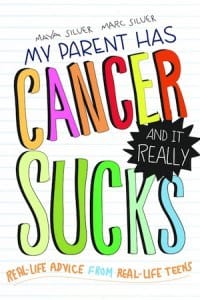 c.2013, Sourcebooks                           $14.99 / $16.99 Canada                       262 pages
By Terri Schlichenmeyer
Truthfully, the bad news came as no surprise.
Your Mom hadn't been feeling well lately and for weeks, you'd heard your parents whispering. You knew she was having some tests done; still, when they finally told you she had cancer, you couldn't believe it. You cried for twenty minutes, ran out of the house, kicked the door, or just quietly went to your room to think.
And that's okay. When you read "My Parent Has Cancer and It Really Sucks" by Maya Silver & Marc Silver, you'll see that that – among other things – is perfectly normal.
Not long ago, Mom and Dad sat down to break the bad news to you, thereby adding you to the list of almost 3 million American teens that live with a parent who's dealt with cancer. And now that you know what's going on, you might think that you'll never laugh anymore (wrong), and that normal life is over (wrong again). You may be angry that your parents didn't tell you sooner, or that they told you too much, or that you're even dealing with this at all. You may eventually have very normal feelings of helplessness, guilt, exhaustion, sorrow, or exasperation.

That's because your family will experience a lot of changes. You may be asked to pick up some extra chores. Mom or Dad might be too tired to do the things they used to do. You could become "parentified." School might seem different to you, and your friends may say stupid things. Adapting to these changes will be easier if you keep the lines of parental communication wide open for the next few months.
Also, in the effort to get an ailing parent back to health, you'll need to take care of you, too. Learn to speak up, ask for help if you need it, and learn to deal with stress. Talk to a trusted teacher or adult and ask your friends to listen. Stay optimistic, but be realistic. And remember to pat yourself on the back now and then because, no matter how this all turns out, you're a survivor, too.
So you've heard the diagnosis, you're terrified, sad, and worried. "My Parent Has Cancer and It Really Sucks" can help you cope.
Father-daughter authors Marc Silver & Maya Silver have both watched a loved one battle cancer, so they're very qualified to offer a solid POV. They do it along with words of wisdom from other teens, clergymen, doctors and therapists and, for further help, they include a chapter for parents of their teen readers. I tried, but I couldn't think of one cancer-related thing that Silver & Silver didn't cover, which makes this teen how-to so comprehensive that the only question you'll have left to ask is: where has a book like this been all these years?
While it's meant for 12-to-17-year-olds, I think this book will work for newly-coping college-age kids, too. It's something you hope you'll never need – but if you do, "My Parent Has Cancer and It Really Sucks"… definitely doesn't.
The Bookworm is Terri Schlichenmeyer. Terri has been reading since she was 3 years old and she never goes anywhere without a book. She lives on a hill in Wisconsin with two dogs and 12,000 books. For more information, visit bookwormsez@gmail.com.